Chris trained and showing cutting horses and training Non Pro riders for over 30 years. During this time, he contributed to the success of the Sonoma County horse industry by focusing his efforts on local riders, their horses, and cutting associations. Chris has trained many local champion horses and riders. He was one of the original founders, past President, and a life time member of the Vintage Cutting Horse Association. He has been an approved NCHA AAA rated judge and judged many cutting competitions.

Chris is originally from Australia where he spent 8 years as a jackaroo (an agricultural intern) in the Outback learning ranch operations. In 1972, he came to the United States to expand his knowledge of the training and breeding of American Quarter Horses. During his travels in the U.S., he was bit by the "cutting bug" when he accepted employment and learned the cutting trade from Leon Harrel - one of the cutting industry's top trainers and showmen and a two time National Cutting Horse Association Futurity Champion. After a few years, Chris opened his own cutting horse training facility on a 16 acre ranch on Sonoma Mountain in Santa Rosa where he oversees ranch operations including training. Chris has won many championships and trained many champion riders and horses. Awards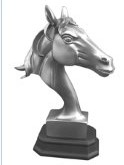 In 2012, Chris received the Sonoma County Horse Council Equus Award for his dedication to teaching and advancing the discipline of Cutting in Sonoma County.


On June 9, 2016, Chris received the 2016 Best of Santa Rosa Award in the Horse Training category by the Santa Rosa Award Program. The award is given annually to honor the achievements and accomplishments of local businesses throughout the Santa Rosa area. Recognition is given to individuals or organizations that enhance the positive image of small business through service to their customers and the community. Winners are determined based on information gathered by the Santa Rosa Award Program and provided by third parties.
Cecelia has been riding horses her entire life and successafully competed in cutting for several decades. Cecelia was born and raised in Petaluma, has ridden horses her entire life, has been a successful cutting horse competitor for several decades. With the passing of Chris, she became the sole owner and manger of Chris Brown Cutting Horses. Cecelia is from Petaluma and has a ___ degree from Santa Clara University. She was been a finance and stock broker for Pain Weber and Sutro & Co. (now RBC) for 22 years and the President of her family's signage business. She served on profit and non-profit boards amd was voted one of the top Women in Business, Leaders, Innovators & Visionaries in the North Bay.